Our
Services
Acacia Grove's attention to detail and expert installation have earned our reputation for excellence.
We excel in fine finishes, both in traditional catalyzed lacquer and in catalyzed waterborne; from rustic to polished high-gloss
Storage that fits your unique needs for kitchens, bedrooms, offices, laundry spaces, bathrooms, and more.
From farmhouse to modern and everything in between, our craftsman can imagine, construct, and install to your precise tastes
Technique and technology.
From design to build, including shipping and installation, our team uses the finest handcrafting skills from generations past, married with the precision of modern machinery
Our
Gallery
View photographs of Acacia Grove's work from many beautiful homes up and down the East Coast.
About Acacia Grove
Inspired Millwork and Cabinetry
Acacia Grove partners with top designers and architects to impress homeowners with the most discerning eyes. Our team handcrafts and installs custom cabinetry  and millwork, custom interior & entry doors, wine cellars, as well as, commissioned furniture.
The name Acacia comes from the biblical Old Testament: it was the wood used exclusively by the Israelites to frame the tabernacle and compose the Ark of the Covenant. An exceptionally hard wood with rich brown to red hues, it is known for its high decay resistance.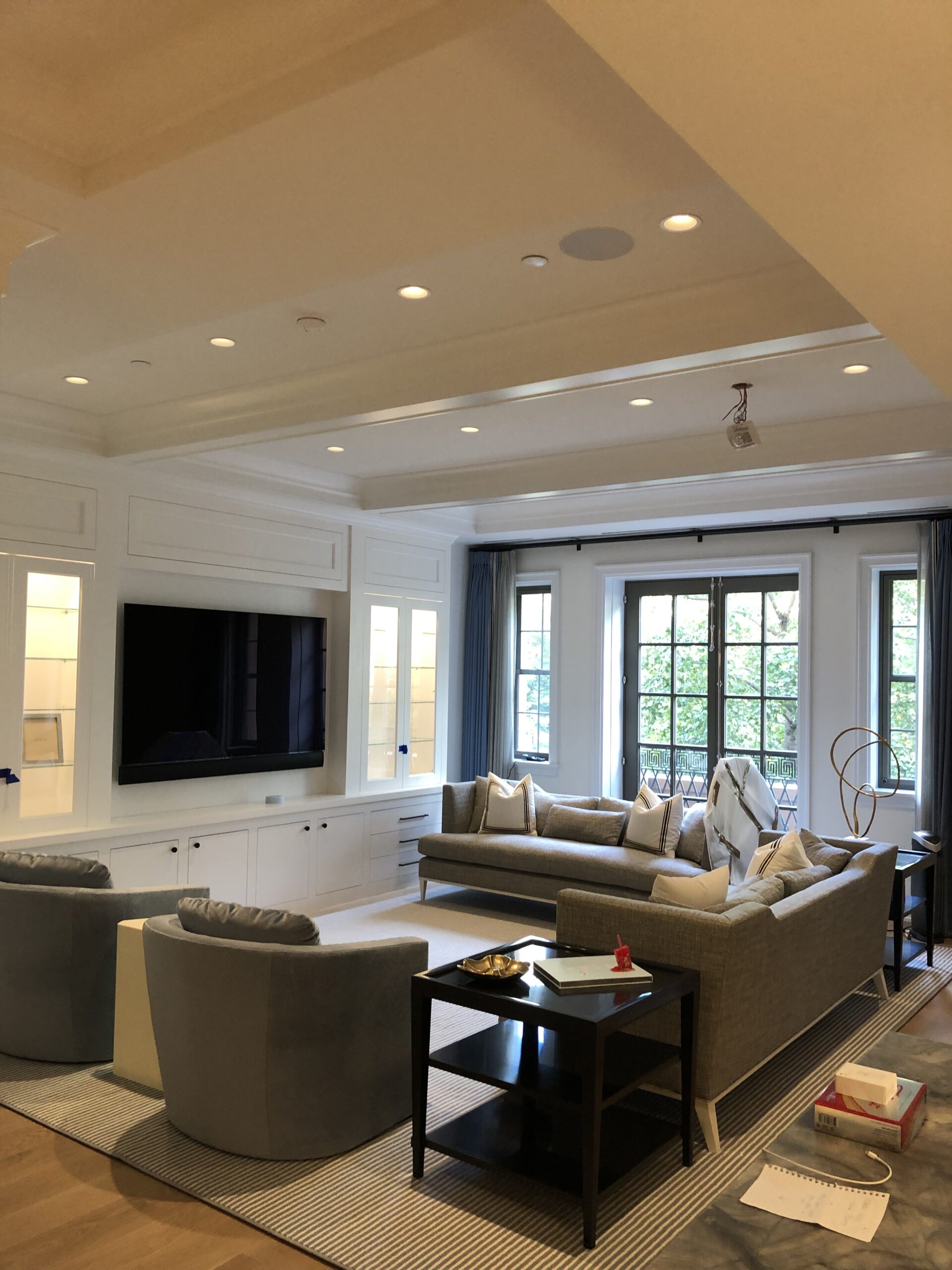 Testimonials
Nathan and the team are simply put, one of the best custom fabricators we have ever worked with. They are ready and willing to work with designers to create truly special pieces that are not only beautiful but offer superior functionality. I highly recommend them for almost any task.

Nathan and I have joined forces on several projects over the past five years. I have enjoyed working directly with him because he is always very involved throughout the entire project no matter how large or small the project may have been. His attention to detail is almost as impressive as his amazing craftmanship. He and his team did all the custom trim work and custom interior stair railing work on a new home we built a couple years ago. They did a fantastic job for me. He has even done some custom built-ins in my own office. His ability to design, fabricate, and install puts him in a class of his own. I would highly recommend Nathan and his team for any custom wood working project.

There isn't anything that this team can't do in the finish carpentry field. They do an amazing job with custom cabinets, interior & entry doors, custom door hardware and custom millwork; in new construction or remodel. His finishes are the best, and they match the approved sample precisely. His lead times have been surprisingly quick for custom millwork. He is detailed with both shop drawings and the final product. He and his guys are absolutely trustworthy. They show up when they say they will, and can be trusted in clients' homes

Here at Leister Brothers, we pride ourselves on quality, timely, and well-managed projects. We choose this team every time we can for our custom built-ins and custom cabinetry as he does the same. When working with Nathan, we always stay on time and on budget. Our clients are always happy with his work, as well as, their designers or architects, which keep our referrals coming in. Thanks for being easy to work with!

It is my pleasure to write this letter of recommendation on behalf of Nathan Goldston. I have the pleasure of working with Nathan on multiple high-end projects, small and large scale, as an estimator with EB Mahoney Builders. Nathan is very thorough during and after the bidding process. Their team  is very professional and well prepared with every aspect of the project from the bidding process to coordination with EBM project managers and superintendents running the project. His communication is clear and timely, and the projects are continually moving forward as they should. As well, his attention to detail and strong organizational skills keep the work flowing efficiently for the duration of the project. I look forward to the opportunity to work with him on the next project. I recommend Nathan enthusiastically and without any reservation

Creative, functional and craftsmanship are the words I would use to describe the work that this team did in my residence. From the elegant mahogany entrance doors to the creative doggie retreat door, each area that Nathan worked on married form and function beautifully!
Contact Acacia Grove
Our team is ready to serve as your partner for custom millwork and cabinetry. We are based in central Pennsylvania, but our reputation has continued growing our business up and down the East Coast.
630 N School Lane
Lancaster, PA 17603