About Acacia Grove
The name Acacia comes from the biblical Old Testament: the wood used exclusively by the Israelites to frame the Lord's tabernacle and compose the Ark of the Covenant. An exceptionally hard wood with rich brown to red hues, it is known for its high decay resistance.
Beautiful, Superior Functionality
"Nathan and his team are some of the best custom fabricators we have ever worked with. They are ready to work with designers to create truly special pieces that are not only beautiful but offer superior functionality."
James Krapp, StudioPPark
On Time and On Budget
"When working with Nathan, we always stay on time and on budget. Our clients are always happy with his work, as well as, their designers or architects, which keep our referrals coming in."
Phil Leister, Leister Brothers Custom Builders
A Class of His Own
"Nathan's attention to detail is almost as impressive as his amazing craftmanship. His ability to design, fabricate, and install puts him in a class of his own. I recommend Nathan and his team for any custom woodworking project."
Mike Lopez, Owner, Legacy Restoration
Nathan Goldston
After a career change in 2011, Nathan followed his passion by starting a company doing upscale residential remodeling. After a few years, he refined his company's focus to installing high end custom cabinetry and millwork for the top architects, designers, and builders in the Philadelphia and Baltimore area. During that time he cultivated a refined understanding of proper details and construction techniques for the specialties that Acacia Grove's work is now know for.
That is why each and every product from Acacia Grove is made with the highest quality materials and each piece is built to last for generations to come.
Nathan has been married to his wife Amy for 17 years. They have been blessed with seven children.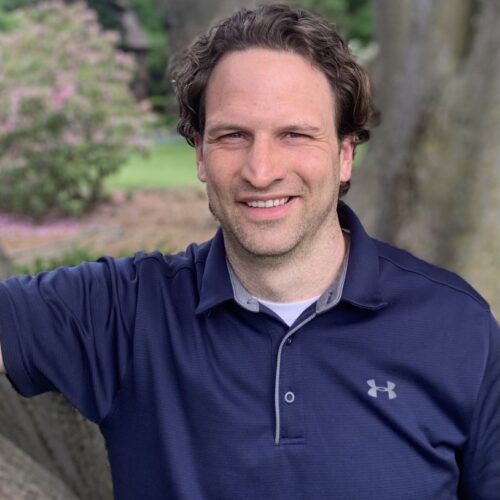 Down to the Details
Putting 1/20″ thick edge banding on MDF slab doors still gives the customer painted doors that look gorgeous when installed, but whose edges are easily damaged and won't last. You can't tell until you accidently bump the edge. Instead of an unnoticeable dent, you lose a chunk of paint and your door.
For flush doors, we use "banded veneer over MDF". That's a premium MDF core, with 1/2″ thick solid wood edge banding on all edges, then both sides covered in a solid wood veneer skin. Some shops don't even edge band their MDF door/drawer fronts. Often these quality details aren't perceptible until 2 – 4 years later when multiple problems arise and your kitchen/cabinetry looks years older than it is.
Cause We Care
When you unload your dishwasher before the dishes are fully dry, the finish on your painted MDF shelf begins to bubble after 2-3 years. That's an example of cheap paint and cheap materials. Our standard shelves are made with 3/4″ thick x 1-1/4″ tall solid wood nosing on 3/4″ mutli-ply plywood, sprayed with a premium catalyzed shop sprayed finish.